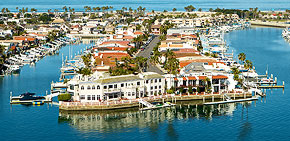 Coronado Cays is a marinaesque waterfront community near Silver Strand Beach.
In 1969 a marina community was envisioned by Signal Landmark Development Company. It was planned to be developed approximately 4 miles south of the Hotel Del Coronado, adjacent to the Silver Strand State Beach. Coronado Cays is known for their eclectic collection of homes.
Living in The Cays is a Lifestyle
The Cays, most commonly referred to by the locals, is comprised of plentiful inlets and peninsulas each with a character of its own. The artful architecture and atmosphere is influenced of Caribbean vacation spots. If you listen carefully you may be able to hear Black Beard calling, "Ships ahoy maties!"Located within the Cays are 11 villages, each with their own flair and personality to mirror some Caribbean attributes.
Browse various properties that are currently for sale in each of the 11 villages within The Cays...